http://tucson.com/entertainment/th-ave-vw-bus-show-is-a-holiday-tradition/article_c8865288-fcc2-5eda-9e9f-91d14ce7968f.html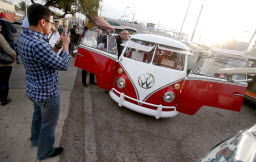 Now in it's fifth year, a vintage VW bus show has become a holiday tradition on North Fourth Avenue
On Saturday, Dec. 26, the show will feature more than 25 buses that date back to the 1960s and '70s.
And while the show is free, visitors are encouraged to donate to the Community Food Bank of Southern Arizona by voting for their favorite bus in three categories: Best of Show, Best Hippie Bus and Best Ugly Bus. Votes cost $1 each, and all proceeds will benefit the Community Food Bank.
Last year the event raised $753, organizer Bruce Hilpert said.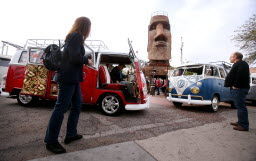 Hilpert said the show will feature customized buses, vintage restorations and some rusty hulks.
The show runs from 2-5 p.m. at The Hut, 305 N. Fourth Ave.
According to Hilbert, 1960s VW bus prices have skyrocketed in recent years, with some bringing as much as $200,000.
Some members have owned their buses for several decades and have attended many a Grateful Dead show in them.