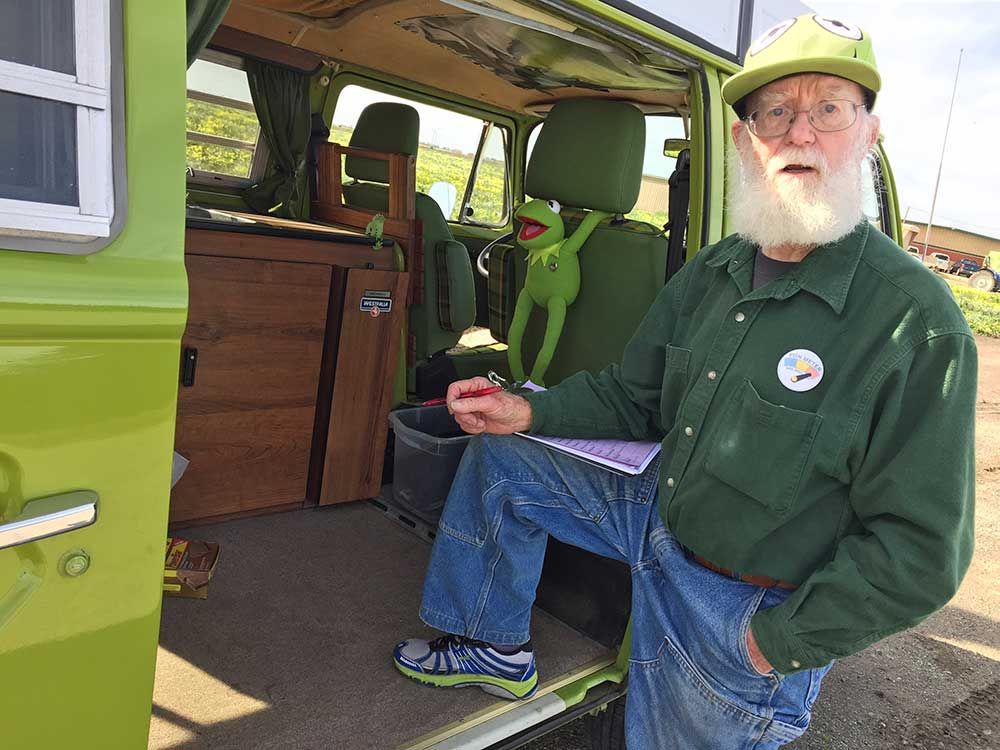 "Hi, I'm Kermit," Paul Aschenbrenner says to bikers, "I'm here to provide free food, free informations and free tools."
When the road stretches like taffy and the wind won't go away, the miles tick into the hundreds and not even views of the coast and the crops and the mountains can distract from a blistering backside, something happens.
A prayer is summoned, even if the tired biker doesn't realize it.
The proof is the angel who appears on the side of the road, in the middle of nowhere, with free chilled water, maps, PowerBars, tools and homemade chocolate chip cookies.
He's a 77-year-old man who looks like a hermit and calls himself Kermit, standing next to a vintage green Volkswagen bus with plaid fabric seats and bumper stickers that say things like "OLD GUYS RULE" and "I see dumb people."
Paul Aschenbrenner is also a self-described, self-deployed "road angel," as his business card states clearly.
He waves for bikers to stop from his spot on the side of Molera Road in windswept Castroville, next to the Pezzini Farms produce stand and the Choke Coach food truck, from 10:30am to 2:30pm every rain-free Tuesday.
His spot presents bathroom proximity and a literal choke point on the Pacific Crest Bicycle Trail to catch types traveling from as far off as Canada down to Mexico (and vice versa).
Last week, five happy Oakland hipsters happened across him on the way to Baja. They call themselves Bicicletas Por La Paz, and "mobilize in protest of corporate power over people and the environment with bike power." They run a community kitchen, street events and music tours by bike.
Vocalist Carolyn Herlehy says they didn't arrive weary, but they were suddenly refreshed. "We weren't necessarily in need, but we were definitely in need of his joyous spirit," she says. "He's such a blessing on the side of the road."
They stopped, drank, signed his guestbook and played a song on ukulele. Kermit danced. Everyone laughed. They cleaned out his chocolate chip treats and left a sticker on his dashboard.
"The cookies were the best part of our day," Herlehy says.
On this day Kermit wears a button with a needle that moves a "fun factor" from LOW to HIGH. Someone asks about it, and he gives it to him. He also sports a Kermit hat and has a Kermit stuffed animal dangling from the back of a seat of his restored 1978 VW, which he also calls Kermit because, as he says, he is an extension of the van.
The hat thing is nothing new. During the three decades he was an instructor at Hartnell, he wore a different goofy hat from his collection of 65 every Monday to keep students motivated to show up, if for nothing less than to check his head.
The hats also work as a trademark during his long-term volunteering at the Monterey Jazz Festival, where he's known as The Hat Guy. For the Wildflower Triathlon at San Antonio Lake, he dances and beats a drum at the very top of "Nasty Grade," a miserable 1-mile climb in the half-Ironman, while wearing a giant white bunny costume.
Kermit encountered his own misery on his first ambitious overland bike trip with his buddy and fellow college teacher David Shipnuck in the High Sierras circa 1983.
As the air thinned, his quads burned, his body cramped and his tail blistered raw. "I wasn't ready for that," he says.
The trip would cover 100 miles a day, and 3,600 in 30 days all told.
But he also encountered adventure and sheer joy. They would ride up to police stations and ask to camp in the city park. They spent a night in Malta City Jail in Montana when the cops offered shelter from an onrushing thunderstorm.
"I love just bicycling and being with a good friend and meeting people," he says.
The most inspiring stop during his rambles came in Virginia's part of the Blue Ridge Mountains. He ran into a woman named June Curry, who saw cyclists oozing up the hills and asking her for water from the hose. So she put out a sign, "Water for bikers."
Eventually Curry turned the second of her two homes into a lodge for cyclists, and in the morning she would bake cookies and bring them over warm.
Now, as Kermit counts more than 400 cyclists from some 25 countries and as many states who have signed his register, he's carrying on her ethic: "Pay it forward, so they'll do a good deed themselves."
It's actually a bit more ambitious than that, whether he realizes it or not. Kermit is teaching folks to have fun practicing kindness in memorable ways, so the lesson lasts that much longer.
Suddenly it makes perfect sense that the two things the old Hartnell instructor taught were sociology and psychology.