http://www.havasunews.com/news/vw-bus-enthusiasts-gather-at-buses-by-the-bridge/collection_5dc273d6-9f92-11e4-a6b8-d3ae75a3f1d3.html
A father and son from California drove through the night. A retired couple form Glendale joined like so many years past. A club from San Bernardino, nearly a dozen in all, staked out valuable lakeside property. And a lone Canadian and his dog, Baby, pulled in with a bedframe holding his engine in place.
They came from near and far, but they all had one goal – make it to the Buses by the Bridge. They joined hundreds more this weekend, camping, swapping road stories and showing off their treasured Volkswagen buses.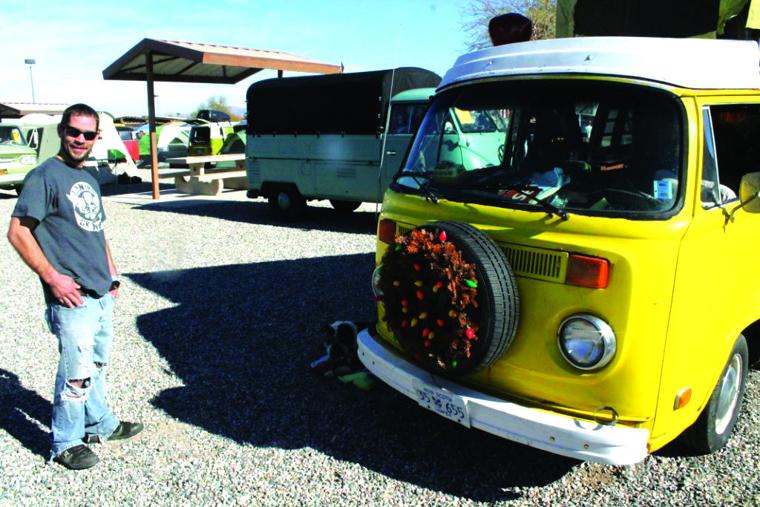 Ben Stewart
Stewart, 32, pictured above, left his home in Nova Scotia nearly six months ago and skirted down the coast of the eastern United States – as close to the water as he could manage all the way to Key West. He had nothing but his dog, Baby, a van full of supplies and a picture of the old friend he split his first VW with.
He and his friend were sixteen when they split the van and spent most of their time driving around town, wreaking havoc and getting into trouble.
After the friend died recently, Stewart paid of his mortgage and debts and set off on the trip of a lifetime. "Keeping the dream alive."
"We've got a story behind us, that's for sure," he said, standing beside his 1975 VW camper, chipped yellow paint and a dead Christmas wreath hanging from the front bumper that made it all the way from New York. He bought the bus for about $5,000.
Along the way, Stewart has volunteered with Habitat for Humanity and at a dog shelter in New Orleans. After staying at Key West for two weeks, he made his way along the Gulf Coast to New Orleans, blowing out his engine somewhere in Louisiana.
"It's actually a Beatle engine," he said. "I've got a bedframe holding it in there."
Stewart was enjoying the company of fellow campers that gave him a meal as they peaked into his messy home on wheels. The sun and lake view didn't hurt either.
"It's snowing and blowing where we come from," he said. "Snowin' and blowin'… oh yeah."
And Stewart had a word of advice for people who think they might not be able to handle night after night on the road.
"They think you are downgrading," he said. "But I've never slept so good in my life. I never slept so good."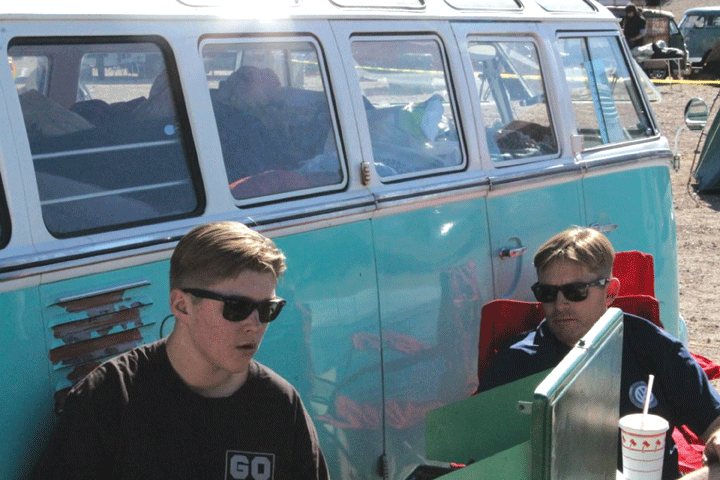 Jeff and Easton Landon
The father and son pair of Jeff and Easton drove through the night from their home in Lancaster, Calif., to make it to the Havasu campout by Friday morning. They put a new motor in the car at 5 p.m. and left at 7:30 p.m. and arrived in time for lunch.
Jeff fell in love VW buses as a high school student, spending his summers living on the beach out of one near Ventura, Calif.
"Back then, you could by one for $50 and tow it home with a garden hose," Jeff said. "Once you do it once, you can't give it up."
He has owned one ever since and now so do his two daughters and 16-year-old son Easton – five in all.
"I haven't talked the wife into it, yet…" said Jeff, who sells airplane radios to independent pilot. "We have a hangar full of buses."
Jeff said he enjoys the campout and catching up with old friends and looking in on familiar buses. He said he saw one that he remembers from nearly 30 years ago. "It's almost the exact same."
As for Easton, he wasn't planning on ditching school and hitting the road anytime soon, but he does enjoy being the only kid at his school who gets to roll up in a 1960s VW van each morning.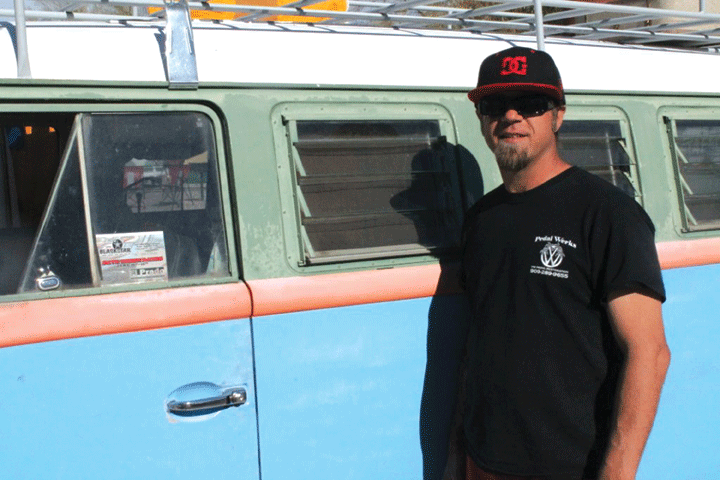 Shane Mullaney
Mullaney joined nearly a dozen other VW bus enthusiasts from San Bernardino, Calif., at the campout over the weekend – the club staked out a maze of tents and vans on prime lakefront real estate.
He said has had VWs since he was 16, beginning with Beatles but moving onto the vans after a friend let him enjoy a test drive.
"It feels like you are sitting in the cockpit of an airplane…" he said of the feeling he gets when he sits in the driver seat of his VW. "I drove the bus of a friend's and three months late I had my own one."
And he has a tattoo that runs from his ankle to his knee, nearly the entire length of his leg, of his first bus. His aunt gave him the bus he drove to the Havasu campout. The 1966 still contained all of its original parts, he said.
His aunt's bus, which he has had for four years now, got stolen after about a year. The police eventually recovered it, but it had been severely damaged. The other members of the bus club pitched in to help him bring it back to its natural state.
"That's what it's all about," he said. "It's a big community."